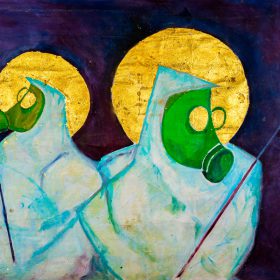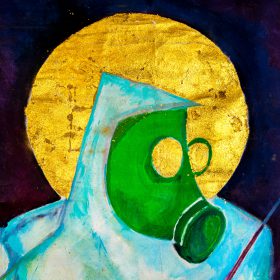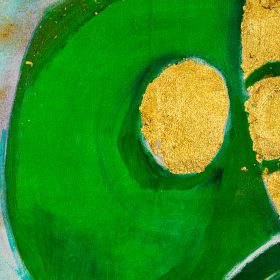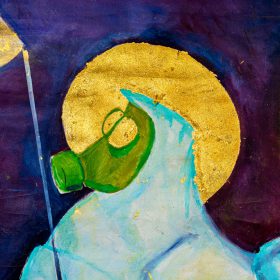 Spraying Saints, Concert Set, 2008
This is one of my well-known artworks that symbolizes most things that I stand for in life.
I made this artwork in 2008 as a background banner for a Music Festival stage set. The so-called "noise music" band's aim was to clean and dispersive the world of contemporary music from useless frills. The role of the masked saints depicted was to disinfect the world, to free it from evil. The masks covering the face, which also symbolizes shrouding in obscurity, hides their wearer, so only their actions matter. We cannot know their exact identity. The role of masks changed in 2020, during the coronavirus pandemic period. The appreciation of all this reflects the message of the image that is thus eternally valid. The bright protective suit, green protective mask, and golden halos stand out well from the homogeneous background. First, I sketched the picture to paper, then to the canvas with the acrylic paint.
With this NFT I am selling some high-definition macro/close-up images too so you can appreciate the details.